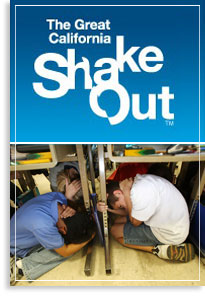 If an earthquake strikes in your town will you be prepared?
Join millions of people in the Great California Shakeout, a statewide earthquake drill held annually on the third Thursday of October.
The 2015 drill will be at 10:15 a.m. on October 15.
The Great California Shakeout is an annual opportunity to practice how to be safer during big earthquakes. Participants learn how to drop, cover and hold on and update their emergency preparedness plans.
To participate, go to www.ShakeOut.org/california/register and pledge your family, school, business, or organization's participation in the drill. Registered participants will receive information on how to plan their drill and how to create a dialogue with others about earthquake preparedness. All organizers ask is that participants register (so they can be counted and receive communications), and at the minimum practice "drop, cover, and hold on" at the specified time. It is only a five-minute commitment for something that can save your life. It all begins with registering, which is free and open to everyone.
For more information, visit www.ShakeOut.org/california.